Gassin – Visiting the Most Beautiful Village in France
Wondering about what to do in the beautiful village of Gassin? You've come to the right place!
Are you wanting to escape to a quiet village, but still be very close to a popular beach destination in the south of France? Let me introduce you to the beautiful village of Gassin.
Gassin is nothing but old winding streets and ancient houses brimming with beautiful flowers. And, nothing but incredible panoramic views.
I stayed two nights in Gassin and it tops the list for being one of the most peaceful and beautiful places I've visited.
Let me share this unmissable gem of the south of France with you. Here's everything you need to know about visiting Gassin France.
Table of Contents
This post may contain affiliate links. If you click on an affiliate link, at no additional cost to you, I will earn a small commission if you decide to book. Please check out my privacy policy and disclosure for more information.
The Location of Gassin
This hidden gem of France is located in the Var department, in the highly sought-after Provence-Alpes-Côte d'Azur region.
Gassin is a hilltop village, perched high up on a rock. It sits in the middle of the Saint Tropez peninsula less than 4 km from the sea and 8 km to Saint Tropez.
The History of Gassin
Gassin's history dates back to Roman times. It became a fortified village at the end of the 15th century when it was considered an important centre of commerce and was located along the pilgrimage route to St. Jacques de Compostelle.
In the 19th and 20th centuries, this pretty village caught the eye of travellers and became a popular escape for artists, writers, and other holidaymakers looking for a tranquil escape to a beautiful place. That's when experienced most of its development and more than doubled in size.
Today, this beautiful village continues to be the hidden gem of the south of France – a pretty village that offers a peaceful escape.
What is Gassin Known For
Gassin is known as Les Plus Beaux Villages de France
Les Plus Beaux Villages de France is a prestigious title awarded to the most beautiful villages in France. There are only 150 villages that hold this special title, and Gassin is one of them.
To be considered Les Plus Beaux Villages de France, the village needs to be a maximum population size of 2,000 inhabitants and have at least 2 monuments of historical significance, and yes, of course, be beautiful.
9 Things to Do in Gassin
1. Gaze upon the panoramic views
From its rocky summit, at an altitude of 200 metres, Gassin provides the most magnificent views of the coastline of the Gulf of St. Tropez, including the towns of La Croix, Valmer, Grimaud, St. Maxime and Les Issambres. In the other direction, are the views of Iles D'Or over to the Maures mountains and all the way to the snowy peaks of the Alps.
2. Stroll the pretty streets
As you wander the pristine streets you'll notice the names of the streets are symbols that reflect the history of this village.
The Passage of the Watchtower, the Door of Saracens, the Rue du Fort, and the Passage of the Knights Templar are all references to the village's past.
Meander through the maze of the winding streets, knowing you can never really get lost. Only if you count getting lost in its sheer beauty.
3. Admire the ancient homes
Gassin is just one of those hilltop villages in France that you daydream about living there one day. It's a village where more locals live than tourists can stay. That means it's authentic and absolutely charming.   
Most of the historic buildings are built in serpentine or basalt from the local quarries.
From the doors to the shutters, or even the stucco buildings – it's a kaleidoscope of pretty pastel colours. Creamy whites, pale yellows, and soft pinks, oranges and blues all blended together. And, every window sill is brimming with flowers.
4. Walk down the smallest street
Walk down the smallest street in the world. The Androuno street measures only 29 cm wide at its narrowest level. Can you squeeze through? It's easier than it looks.
5. Wander through a secret garden
Visit the very tranquil botanical garden called L'Hardy-Denonain showcasing plants native to the Provence region.
Don't let the tiny size fool you. At barely 2500 m², it is incredibly romantic wandering through the tiny pathways. And, it's free!
How to find this secret garden: go to Place deï Barri (across from Le Micocoulier restaurant) and go down a few steps until you see a pretty wrought iron gate. Viola!
6. Pop into some churches
Whether you love to visit churches while holidaying in Europe or not, it's always fun to pop in and admire the details and appreciate the rich history it provides. Two churches to visit are:
Notre-Dame-de-l'Assomption chapel, built at the end of the 11th century and later rebuilt in the 16th century. It houses statues of the Madonna and Child and Christ from the 17th century and an 18th-century bell
The Romanesque chapel of Our Lady of Consolation is in the midst of a wooded area and served as a parish until the mid-16th century
7. Visit the local shops
Truth be told, there are about 3 shops in Gassin. Quality vs quantity, right? Worth noting is the oldest art gallery in the area, Galerie deï Barri, an amazing home decor shop called Maison du Village, and there's a wine shop, and jam shop. That's it! All three are worth a visit.
8. Catch the sunrise and sunset
Everyone gathers at dawn and dusk along the fortified wall and terrace to watch the mesmerizing sunrises and sunsets. You have uninterrupted views of the sea in the distance and small villages along with mountains.
9. Photo Op in front of Les Murs Vegetaux
A recent addition (after my visit here), was the creation and installation of a wall of plants. Just when you think that Gassin couldn't get any prettier, they do this! It will grow over time and adds to the abundance of plants and flowers you can already find here.
Gassin Restaurants
Dining out in Gassin is pretty incredible. Terraces are set up along the fortified wall on Place deï Barri where you can admire the uninterrupted panoramic views. Reservations are required (even in non-peak season) as many locals coming from nearby villages including Saint Tropez come to dine at a Gassin restaurant. Getting a coveted spot on the terrace might prove to be difficult.
Here are the top-rated Gassin restaurants.
Le Pescadou – specializing in seafood (and a couple of vegetarian dishes) with lovely terraced seating, amazing plate presentation and great-tasting food makes this my top pick for dinner
Au Vieux Gassin – if you are looking for something a bit more casual or great lunch spot feast on this Mediterranean menu that is more family-friendly of the restaurant choices, and still offers terraced seating next to the above restaurant
Les Sarments – think typical Provence garden and this is the restaurant to go to serving classic French cuisine in a secluded terrace dining
Gassin Hotels
There are no Gassin hotels in this village. We stayed at La Suite de la Maison du Village, a 1-bedroom loft apartment with a small Juliet balcony with one amazing view, click here.
Perfect for a solo or a couple's stay, this modern loft is absolutely perfect. The industrial-styled apartment sits above an interior design shop called Maison du Village. Some of those cool pieces for sale are showcased throughout this small space. Aside from the décor being magazine worthy, it's the views from the balcony that truly make this the place to stay when in Gassin.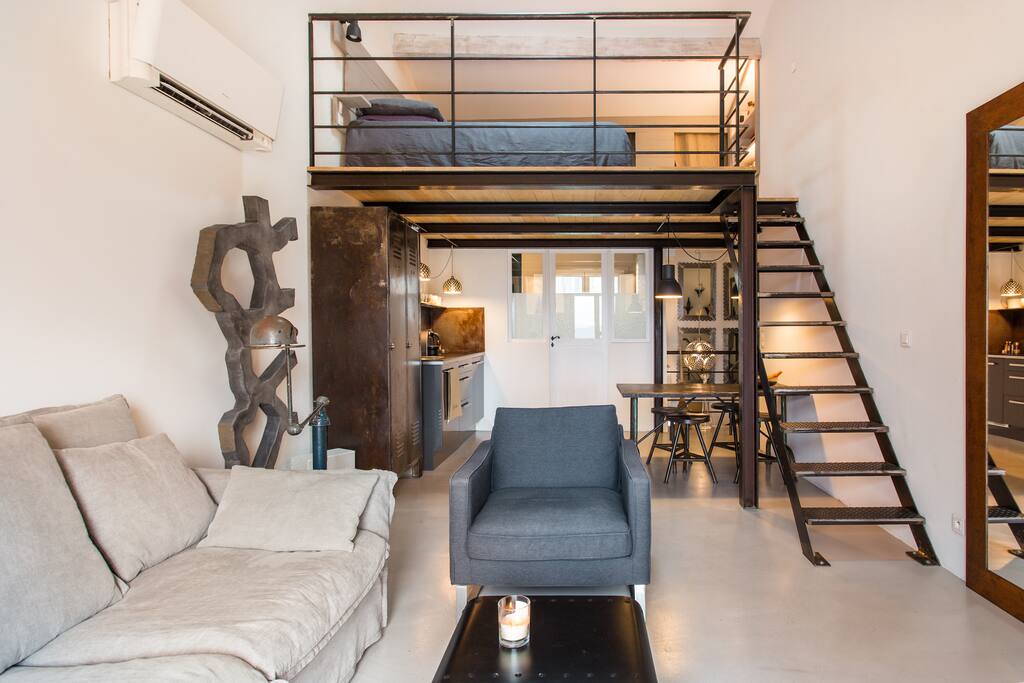 Another option for solo or couple travellers is Le Cabanon de Val, a cute guest room in a pool house steps from a pool. For larger groups, rent a Villa Nora, a 5-bedroom home with a pool and gardens.
If you want to be more central to Saint Tropez check out these places to stay.
Oh, When the Saints – Saint Tropez. 1-bedroom with direct access to Bouillabaisse Beach on the Côte d'Azur coastline.
Driftwood & Rose – near Saint Tropez. A 2-bedroom secluded house with a plunge pool is a relaxing getaway.
Cassis & Champagne – Saint Tropez. A 2-bedroom relaxing house with only a twenty-minute walk from the port, and only four from Bouillabaisse Beach.
Nearby Day Trips
Gassin is located in the Var department of France in the beautiful Provence Alpes Côte d'Azur region of southeastern France. This is the same region that is home to the beautiful Luberon villages, town of Avignon and the vibrant city of Nice.
With so many beautiful places close by, there are endless day trip options. Here are the top places to visit near Gassin: 
La Croix Valmer – known for its 7 beautiful beaches (4km or 10-minute drive)
Saint Tropez – known as a lively resort town famous for its beaches, shopping and nightlife (8 km or 15-minute drive)
Ramatuelle – known for offering beautiful vista views of the Bay of Pampelonne (8-km or 12-minute drive)
Grimaud – a perched hilltop village with a castle that extends down to the seaside village of Port Grimaud or "French Venice" or "Mini Venice" as it was intentionally built to look just like Venice (11-km or 20-minute drive)
Sainte Maxime – known for its port, promenade and beaches (14-km or 25-minute drive)
Top Rated Tours and Activities:
Kayak Experience in Ramatuelle Reserve. A 3-hour excursion brings you to a secret spot to go kayaking, rock diving and snorkelling, click here for more info.
Winery Tour by Moutain E-Bike. Bike through the countryside around Ramatuelle and St. Tropez and visit several wineries on private estates, click here for more info.
Travel Resources for France
Looking for more travel inspiration about France? Head to my Europe Travel page where you can find all my articles and travel planning resources like booking flights, trains, cars and accommodations.
If you LOVE EUROPEAN TRAVEL or planning a TRIP TO EUROPE, subscribe to my website! I will share my love of Europe with you, along with travel planning tips and inspiration. Join, and let's be travel friends!
As a Holidaymaker
Gassin definitely earns its title of one of the most beautiful villages in France. This under-the-radar village is a perfect weekend getaway destination. It won't take long to explore the top sites, but well worth staying for a couple of days to explore the nearby popular towns.