First Timers to Florence – Top Things to Do
Florence, a small walkable city, offers visitors some of the best art and architecture in Europe. Art lovers will be in awe of the classic masterpieces that can be found here. Lovers of architecture will marvel at the historic churches, palaces, and soaring buildings shadowing the winding alleyways. The entire city centre has been designated an UNESCO World Heritage site due to its architecture. Lastly, sunset lovers will be treated to the most beautiful golden hour casting an incredible glow over the entire city.  
Colpo di fulmine. That's what Italians call love at first sight, and that's exactly what happened to me. I immediately fell in love with Florence Italy. Wondering what to see in Florence? For those travelling to this Tuscan city for the first time, or maybe it's a repeat visit, here are the top things to do in Florence.  
The Basilica of Santa Croce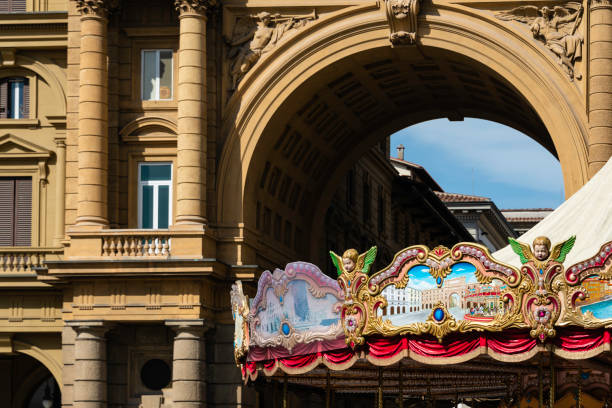 Just off of the main Piazza del Duomo (each main cathedral in Italy is called the duomo) is Piazza della Repubblica where you can find a grand arch, a colourful old carousel and great restaurants with their terraces. This is a great square for people watching and having a drink. It's bustling with activity all day long, and is a popular hang out spot in the evening.
Piazza della SS Annunziata
Palazzo Pitti & Boboli Garden
When visiting the Palazzo Pitti, it's the garden that is main attraction. Boboli Garden offers over 11 acres of green space, full of statues, sculptures, art, hidden pathways and fountains. It offers a peaceful escape from the busy city and one of my favorite things to do in Florence. 
Travel to other Places in Italy
If you are looking to either take a day trip or want to travel to other places in Italy from Florence. Here are some popular attractions you might be interested in.
Perhaps Florence is a stop along a longer intinery in Italy. Here are some popular destination points from Florence.
Rome to Florence – 3 hours (car or train) | Check out our Guide to Rome
Cinque Terre to Florence – 2.5 hours (car or train) | Check out our Guide to Cinque Terre
Venice to Florence – 2 hours (train)
Or, if you are wanting to spend more time in Tuscany and want to visit some of the most beautiful Tuscan towns, here are some of the top Tuscan towns to consider.
Best Accommodations in Florence
With so many things to do in Florence, I recommend staying at least 2 nights, if not longer. This romantic city offers a great selection of accommodations. Here are some of the best accommodations in Florence.
Have you fallen in love with Florence yet? Whether you are visiting Italy for the first time or the twentieth time, the Florence attractions are endless. This beautiful city is really a must-see on your Tuscan intinery. Beyond these must see sights, Florence is also known for its food. Especially the Bistecca alla Fiorentina, or Florentina steak. The recipe has not changed since 1915, and can be found on almost every menu in Florence. 
Colpo di fulmine. Is there any doubt why I haven't fallen in love with this Renaissance city. 
Disclosure:  As an Affiliate Associate of Booking.com if you click on the link contained in this post, at no additional cost to you, I will earn a small commission if you decide to book. Thank you.