Tuscany offers so many amazing villages, towns and cities to visit. With that many options, comes difficult decisions – which ones to visit. One that is not to be missed is the lovely medieval town of Siena. Spending one full day in Siena is enough time to see the main attractions and to appreciate its charm. To make the best use of your time, here are the top sites to see. 
Every starting point when touring a Tuscan town starts with going to the Piazza first. No matter what direction you are coming from, all streets will lead you there. 
The heart of Siena is the 13th century Piazza del Campo. It's shell-shaped design is considered to be one of Europe's greatest medieval squares. The tiling on the floor is divided into nine different sections. This represents The Nine who governed Siena at the peak of its medieval glory. This piazza is massive at 333 square metres which can accommodate 30,000 people. Locals and tourists alike love to simply hang out in this piazza. Sipping a coffee or enjoying a gelato and always, people watching. 
And, while in Piazza del Campo, here are the sites you will want to look out for. 
Forming almost an entire side of Piazza del Campo is Palazzo Pubblico. This gothic town hall was built in the late 13th and early 14th centuries. Today it houses the Museum Civico. The highlight? Two very large frescoes: Ambrogio Lorenzetti's Allegories of Good and Bad Government (1338–40) and Simone Martini's celebrated Virgin Mary in Majesty (1315).
Torre del Mangia is one of Italy's tallest secular towers at 87 metres. It was built to be the exact height of the Siena Cathedral, as a sign that church and state have equal power in Siena. The tower is adjacent to the Palazzo Pubblico. 400 steps brings you to the top with phenomenal views of the city below. 
The Cappella di Piazza sits at the foot of the Torre del Mangia. This beautiful marble tabernacle was built in 1352, to thank Madonna following the plague that hit the city in 1348.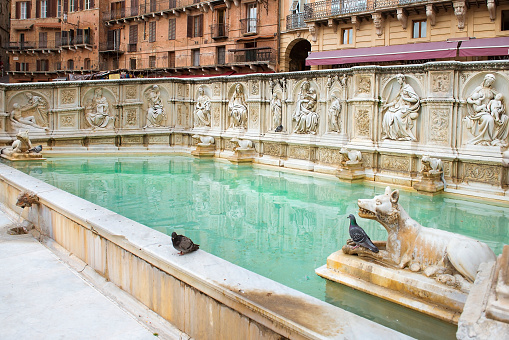 Fonte Gaia, or Joyous Fountain, can be found in the Piazza del Campo. Inaugurated in 1346, water was piped in from close to 24 kilometres away. Everyone was so happy and marveled at seeing the water flowing from the fountain for the first time. 
Now that you have spent some time in the Piazza del Campo it's time to explore the rest of the city.
The historic centre of the city has been designated a UNESCO World Heritage site. Eleven streets fan out from the Piazza del Campo and create this wonderful maze. Somehow, getting lost doesn't feel like being lost at all, but feels like an adventure. It's as if you have stepped back in time. It's very atmospheric and mysterious. 
Once you have explored the historic city centre it's time to visit another amazing landmark, the city's cathedral.
The Siena Cathedral (Duomo di Siena) was built between 1215 and 1263 and is a classic example of gothic architecture. Known as the most beautiful cathedral in Tuscany, its interior is even more impressive than the exterior. It's filled with intricate details and artwork by Pisano, Donatello, Bernini and Michelangelo. 
Inside, you will be awe-struck by the striped black and white marble pillars representing the symbolic colours of Siena. There is a lot to take in, so don't rush your time here. Be sure to look up to the beautiful frescoed ceilings and down to the incredible mosaic tile floors. The incredible works of art are seen in the sculptures, stone, wood carvings, paintings, and stained glass.
One of the most unusual sites you might find in Siena is the Facciatone. It is the unfinished façade of the Cathedral's expansion. Due to the onset of the plague and a recession in the 14th century the construction stopped. Plans were abandoned, leaving an incomplete façade. Today, you are able to climb to the top giving you wonderful city and Tuscan countryside views.
Now, for the best part of your day…it's time to enjoy some delicious food. 
Pici, a thick handmade spaghetti, is claimed to have originated in Siena. It is considered a very simple dish, a peasant way of cooking, made without eggs and originally served with only a few simple ingredients. 
While in Siena, don't miss the opportunity to try plate of pici cacio e pepe (pecorino cheese and pepper) or pici all'aglione (garlic and tomato). 
The most important day of the week is market day. And, Siena hosts one of the largest in all of Tuscany. Visit on a Wednesday morning and join locals in their weekly ritual. It can be found in the area of La Lizza where vendors spill out around the majestic Walls of the Medicean Fortress, on Avenue XXV Aprile. It's a real feast for the senses. Pick up something delicious to eat as you start your tour of the city. 
Siena is one of those Tuscan towns that just have to find a way onto your list. From its rich history to its significant landmarks – this is a place that will not to disappoint and leave long lasting memories. 
Disclosure:  As an Affiliate Associate of Booking.com if you click on the link contained in this post, at no additional cost to you, I will earn a small commission if you decide to book. Thank you.