Paris to London by Train: Your How-to Guide
The best way to travel from one European city to the next is by train. The high-speed Eurostar train takes you to London from Paris – or in the opposite direction – in as little as 2 hours and 17 minutes.
Knowing that I couldn't resist adding a side trip from Paris to London by train. The only problem was the lack of information about how to do this. Luckily for you, I've done the research and experienced it firsthand.
Use this how-to guide for trains from Paris to London and travel with ease.
Table of Contents
This post may contain affiliate links. If you click on an affiliate link, at no additional cost to you, I will earn a small commission if you decide to book. Please check out my privacy policy and disclosure for more information.
FAQs Pre-Booking Paris to London
How long is the train ride from Paris to London?
The fastest high-speed Eurostar train takes 2 hours and 17 minutes from Paris to London. However, almost half of the Eurostar trains' travel time can take up to 2 hours and 37 minutes from Paris to London, depending on the time you select from the 10 train trips each day.
How much is a train ticket from Paris to London?
The cost for a one-way London to Paris train or Paris to London train is approximately $66 USD. Whereas, for a round trip from Paris to London or London to Paris you can expect to pay $51 USD or $104 roundtrip.
Which is cheaper to get from Paris to London by Eurostar or fly?
Generally, Eurostar train tickets are cheaper than flying. However, you might find some low-cost flights. But keep in mind the hidden costs of flying vs the convenience of train travel.
What are the benefits of travelling by train over flying?
The benefits of travelling by Eurostar from Paris to London are time, cost and convenience, for example:
1. Train stations are located much closer to the city centre, with direct links to the metro
2. Train travel allows 2 pieces of luggage of any size for free, plus no restrictions on liquids, whereas, checked luggage is at a cost with most airlines
3. Boarding time at a train station is far less than if you were to fly
Is there a day of the week that is cheaper to travel by train?
Yes, the day of the week you travel and one-way or round trip impact the cost of your train ticket cost. If you travel Monday through Thursday you can expect a much lower cost. Friday, Saturday and Sunday train travel is significantly higher.
How far in advance can you book your Eurostar train ticket?
Eurostar tickets can be booked up to 180 days before your return travel date.
When you're looking at the Eurostar calendar, available days will show in black while the greyed-out dates mean they are not available for sale.
What can I do to get the best rate with Eurostar?
To get the best rate, don't leave booking to the last minute. Prices hold steady for months in advance, but the later you get your tickets, the more expensive they may be. Watch for peak travel times, these popular train routes can also sell out quickly, so don't hold off from booking.
Where do Eurostar trains from Paris to London depart from?
On the Paris to London route, Eurostar trains travel between Gare du Nord in the 10th arrondissement Paris to St. Pancras International Rail Station in central London. The London Underground and Paris Metro serve both train stations making it easy to get to your departure point.
Does the train from Paris to London go underwater?
Yes! The Eurostar trains travel at high speeds over land and beneath the Channel Tunnel, often referred to as the Chunnel, which runs below the English Channel.
How long is the chunnel ride from London to Paris?
The journey through the Chunnel is about 22 minutes. Simply, the tunnel is like any other you've experienced on land- it's dark and you don't see anything from your window.
If you LOVE EUROPEAN TRAVEL or planning a TRIP TO EUROPE, subscribe to my website! I will share my love of Europe with you, along with travel planning tips and inspiration. And, you'll get a FREE gift for signing up – 30 Bucketlist Places in Europe! Join, and let's be travel friends!
FAQs: Booking Paris to London
What's the first step to booking a train from Paris to London?
The first step of booking online is to log in or register an account with Eurostar (a requirement for booking). Creating an account is quick and easy, and then you'll get all of the important reminders and updates about your booking information.
Where can I find the Paris to London timetable?
For the Paris to London timetable and to book your one-way or roundtrip train tickets from Paris to London, click here.
What are the different class services with Eurostar?
There are 3 different types of class services: Standard, Standard Premier, and Business Premier. I opted for the Standard class because it was such a short trip. If travelling longer, you may wish to upgrade to the Standard Premier.
Travelling on direct Eurostar trains from Paris to London
Your travel day has arrived! So here's what you can expect about the Paris train station to London.
Check-in procedures for Eurostar trains
Passengers are expected to check in at least 45 minutes before the scheduled departure time. Unlike airports, check-in is in person for Eurostar trains.
Either print your ticket in advance or use your e-ticket.
Travelling from Paris to London requires passengers to go through Eurostar's customs and security screening at Paris Gare du Nord because the United Kingdom is not a Schengen zone country.
Each train departure time queues lines for customs and security screening (starting about 2 hours before departure). I found this process to be a bit frantic. But don't panic, as long as you are in the queue for your scheduled train, you'll make it through the process in time.
Eurostar departure lounge and gates
Once you pass through security and customs, you'll be in the Eurostar departure lounge where passengers wait for the train gates to open, usually about 20 minutes before departure.
Just like what you'd expect to find at an airport, there are duty-free shops, restaurants, and free Wi-Fi. I went straight from customs and security to my gate due to my just-in-time arrival at Paris Gare du Nord.
How to find your seat
There are two key numbers to look for – the train and the seat – both are on your ticket. You'll want to enter the right carriage by the Coach number, making it easy to find your seat number.
If you require assistance, there are train agents nearby to help. There are plenty of luggage racks at both ends of the carriage and also overhead racks that fit small carry-on-sized luggage.
The train journey
Amazingly, the 2 hours and 17 minutes fly by. I passed the time by catching up on my phone (every seat has a charging plug-in) and gazing out the window.
Leaving Paris, it doesn't take you long before you are in the French countryside. For most of the train ride, it's rural scenery.
Display monitors showing the train's map location, estimated arrival time and the train's speed are visible to everyone. I was mesmerized to watch how fast the train Paris to London goes- getting very close to 300 km per hour (186 miles per hour). It's only in the Chunnel that the speed drops to 160 km per hour.
Arrival at London St. Pancras International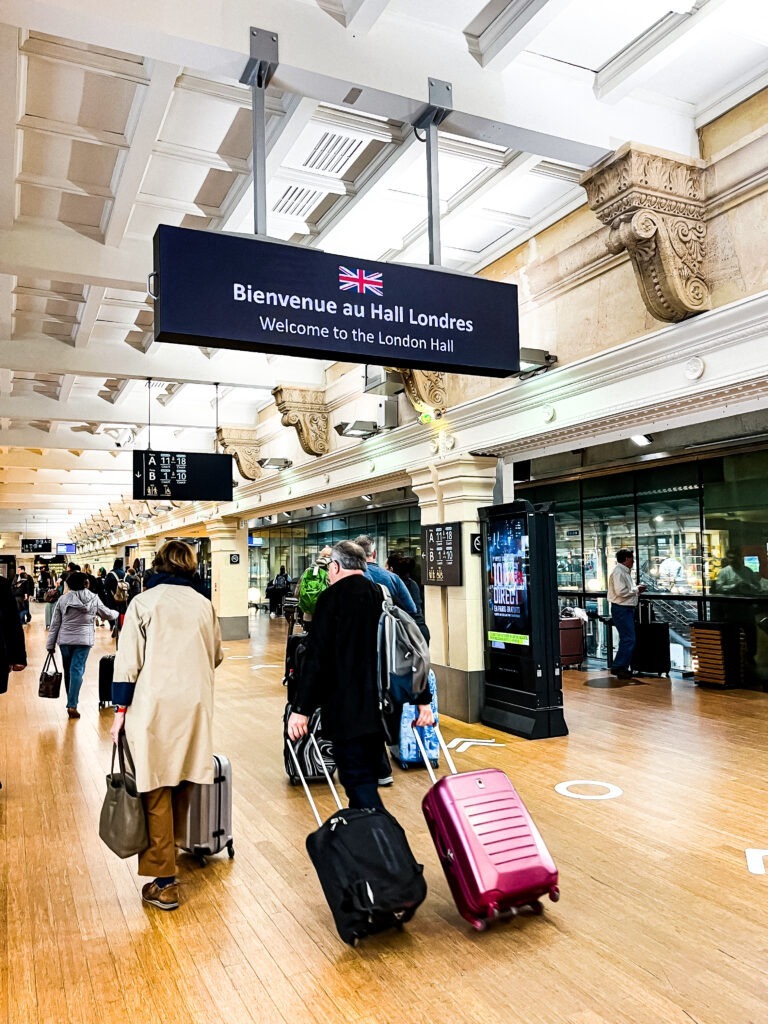 Stepping off the Eurostar train at the St. Pancras station you're all set to explore London.
Depending on your next destination- you can take a Taxi or the Underground. I opted for the Tube and as luck would have it someone gifted me with their 24-hour day pass. Thank you, kind stranger, what a warm welcome to London.
The St. Pancras Underground is alive! A live band playing upbeat music, people coming and going- it was a much different experience than the quiet and subdued Paris.
Round Trip Eurostar London to Paris
After 5 days in London, I did it all again, but in reverse. There is no difference in time, process or experience in the train London to Paris.
Paris City Guides of Top Things to Do
Beyond the top landmarks and monuments in Paris, here are other things to do in Paris:
London City Guides of Top Things to Do
As a holidaymaker
Trains from Paris to London make travelling in Europe so easy and enjoyable. I'm so glad I took the high-speed Eurostar roundtrip train from Paris to London. That side trip was super easy and I got to enjoy even more travel experiences.