16 Best Things to Do in Old Montreal
Montreal's oldest neighbourhood is fittingly called Old Montreal. This historic neighbourhood dates back to the early 1600s. It spans several blocks next to the waterfront of the Saint Lawrence River. Stroll the cobblestoned streets and you'll feel like you are in Europe. Beyond the historic sites, you'll also find many cafés, restaurants, boutique hotels, and shops. 
Explore the best things to do in Old Montréal with this self-guided tour. This walking tour will bring you to all of the must-see attractions in historic Old Montreal. 
Table of Contents
This post may contain affiliate links. If you click on an affiliate link, at no additional cost to you, I will earn a small commission if you decide to book. Please check out my privacy policy and disclosure for more information.
What to See in Old Montreal
#1 Notre-Dame-de-Bon-Secours Chapel
The Notre-Dame-de-Bon-Secours Chapel was built over the ruins of another church in 1771, making it among the oldest chapels in Montréal. It's also home to the Marguerite Bourgeoys Museum, which honours the woman who was Montréal's first teacher and founder of the original Notre-Dame-de-Bon-Secours. For an incredible view of Old Port Montreal, climb to the lookout at the top of the chapel.
Address: 400 rue Saint Paul Est
#2 Bonsecours Market
The Bonsecours Market, from 1847, is recognized as a National Historic Site of Canada and was once the largest public market in Montréal. Today, the domed space offers eateries and boutique shops selling mainly local Quebec-made items from art to fashion. You'll find many sketch artists sitting on the edge of the market to capture this historic square of the Chapel and L'Auberge Saint Gabriel.
Address: 350 rue Saint Paul Est | 1-minute walk from Notre-Dame-de-Bon-Secours Chapel
#3 Château Ramezay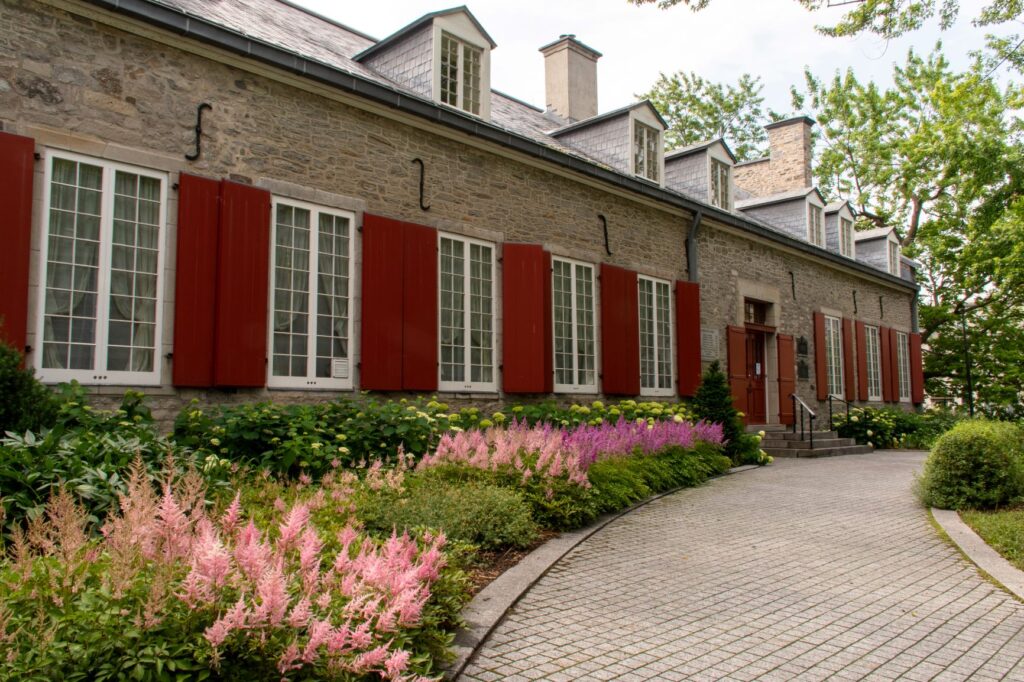 Château Ramezay is a museum in a historic building built in 1705. It was the first building to be recognized as a historical monument in Quebec and was also designated a National Historic Site of Canada in 1949. The museum honours the early era of the city's history. Through its exhibitions, it shows how the people of New France lived many centuries ago. The historic site and museum were selected as one of the 1001 Historic Sites You Must See Before You Die by a team of experts in partnership with UNESCO.
Be sure to walk around the back of the Château and stroll through the Governor's Garden. It mimics the original 18th century garden, only on a much smaller scale. The garden is in the formal French style and is divided into three equal-sized sections: a kitchen garden, an orchard and an ornamental garden. Surrounding these sections, at the foot of the stone walls, is a fourth section consisting of herbs and medicinal plants. A ram's-head fountain greets you as you enter the garden.
Address: 280 rue Notre-Dame Est | A 3-minute walk from Bonsecours Market
#4 Montréal City Hall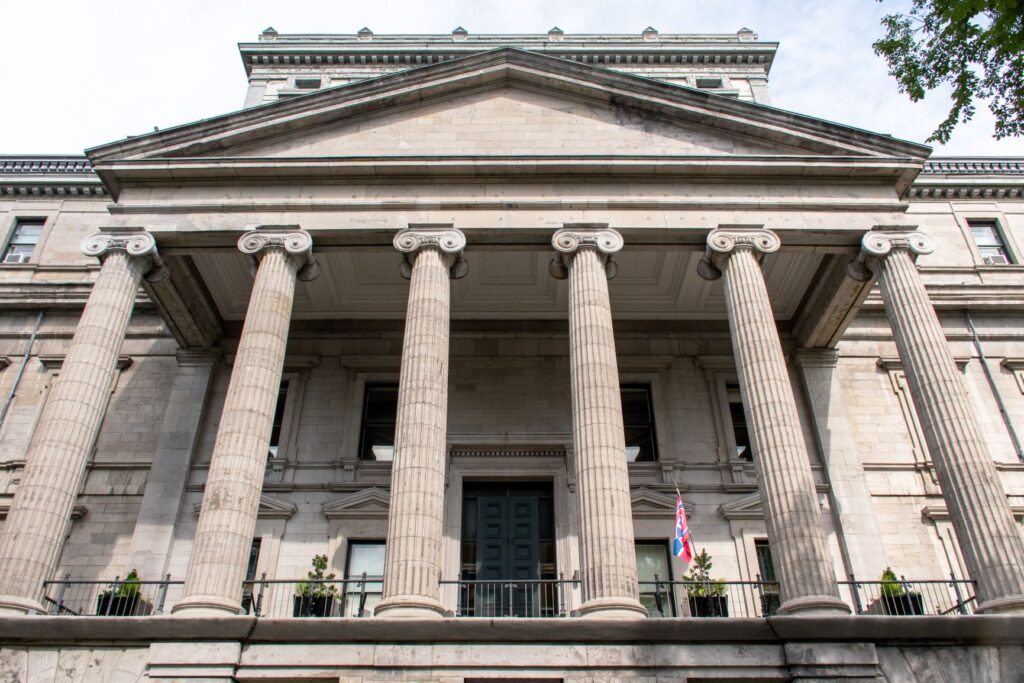 Montréal City Hall (or Hôtel de Ville) is an impressive building. Built between 1872 and 1878 it was inspired by the Hôtel de Ville Tours in France. It is known as one of the best examples of the Second Empire style in Canada. Located next to Vauquelin Square and its beautiful fountain, this incredible landmark is not to be missed.
275 Notre-Dame St. Est | A 1-minute walk from Chateau Ramezay
#5 Place Jacques-Cartier
Place Jacques-Cartier is a historical square named after the explorer who claimed Canada for France in 1535. It leads from Montréal City Hall to the Old Port. The stretch of cobblestone street is pedestrian only, and in the summer months is host to events. festivals and street art. It's bustling with performers, artisans and artists. At the north end of Place Jacques-Cartier stands Montreal's oldest public monument, Nelson's Column, which was erected in 1809 to honour the British officer Horatio Nelson. The square is also lined with many restaurants. Sit and stay a while, you'll want to soak up the lively atmosphere.
Address: Rue Jacques-Cartier | A 2-minute walk from City Hall
#6 Old Port Montréal
The Old Port Montreal (or Vieux-Port) was used by French fur traders as early as 1611. Although it has not operated as the city's main port since the 1970s, it still has the main purpose – tourism. Here, you can eat, drink, walk, cycle or paddleboat along the pier. Other attractions include the Montreal Science Centre, a wintertime skating rink, a Ferris wheel (called the Grande Roue) and a zip line. This family friendly spot is lined with food trucks along the pier.
Address: Promenade du Vieux Port | A 1-minute walk from Place Jacques-Cartier
Experience | Enjoy unbeatable views from Canada's largest observation wheel. Choose to upgrade to a private gondola or beat the crowd with the early bird option, click here to book your spot.
#7 Grand Quay
Walk along the Promenade du Vieux Port until you reach the Grand Quay. Jutting into the Saint Lawrence River, the Grand Quay is a new addition to the Old Port. From here take a boat cruise where you can admire the views of the waterway and its surroundings. The Grand Quay is one of the best vantage points to see Habitat 67, a cube-like housing complex famously designed by architect Moshe Safdie for Expo 67, the world's fair hosted by Montreal in 1967.
Address: rue de la Commune and rue Saint Sulpice | A 5-minute walking distance from Old Port
#8 Notre-Dame Basilica
One of Montreal's most acclaimed architectural structures is undoubtedly the Notre-Dame Basilica. The interior of the stately 19th-century this church is known to be one of the world's most dramatic. The blue-and-gold vaulted ceilings, ornately decorated carvings and vivid stained glass walls are a sight to be seen. It is known for being the first Gothic Revival-style church in Canada. In addition to regular mass services, many ceremonies of Canada's most prominent citizens are held here, like Celine Dion's lavish wedding.
Address: 100 rue Notre-Dame | A 5-minute walk from Grand Quay
#9 Place d'Armes
Place d'Armes is the oldest public square in the city. Here you will find some of the most impressive architecture- the old Bank of Montreal, Art Deco buildings and the Notre Dame Basilica. Look out for the bronze statues called 'The English Pug and the French Poodle' also known as the Two Snobs. They face away from each other on opposite sides of a building wearing a snobby theatrical nose mask. It's meant to poke fun at the French and English Canadians' friendly rivalry.
Address: Place d'Armes | A 1-minute walk from Notre-Dame Basilica
#10 Royal Bank Tower
Once the tallest building in all of Canada, the 1920s Royal Bank Tower is still an incredible sight to see. The Neoclassical building is open to the public as it now houses a café in its impressive lobby. Or, return in the evening and check out its nightclub in its historical bank vaults.
Address: 360 rue Saint-Jacques | 5-minute walk from Place d'Arms
#11 Centre d'Histoire de Montréal
The Centre d'Histoire de Montréal is a museum dedicated to learning about the city's eventful history. With three floors and several exhibitions, it traces Montréal's history through photographs and artifacts, including the story behind Montréal Expo. It used to be an old fire station which was in use from 1904 to 1972.
Address: 335 Place d'Youville | 6-minute walk from Royal Bank Tower
#12 Maison de Mere d'Youville
The Maison de Mere d'Youville is a historic site dedicated to the first Canadian saint, Marguerite d'Youville. In 1693, 51 years after the founding of Montreal, a 'home for charity' was built, followed by a hospital and chapel that was run by Saint Marguerite and the Grey Nuns. Today, a permanent exhibition recounts the influence of her work.
Address: 138 rue Saint-Pierre | 2-minute walk from The Centre d'Histoire de Montréal
#13 St Paul Street
Saint Paul Street is the oldest and most picturesque street in the city. Walk along the cobblestone street lined with historic greystone buildings. These elegant buildings are filled with shops, galleries and restaurants. The entire street runs through Old Montréal. It's worth just walking from tip to tip and back again gazing upon the architecture and perusing the shops each way. 
Recommended Experience | A fun and unique way to see Old Montreal is on a Ghost Walk Tour of what some say is a haunted part of the city.
Check prices and book dates for this 90-minute tour
Best Urban Parks in Old Montreal
#14 Place Marguerite-Bourgeoys
Marguerite Bourgeoys (1620-1700) was a nun known as the foundress of the Congregation de Notre Dame de Montréal. She was recruited to educate the French and Indian children in the new colony. In 1659 she began receiving girls (known as the Filles du Roy) who were sent by the King of France to establish homes in Montreal and became a mother figure to them. She introduced a school system and a network of social services which gradually extended throughout Canada. For that, she is referred to as Marguerite the "Mother of the Colony".
Address: Rue Notre-Dame | Nearby: Montreal City Hall
#15 Place de la Dauversière
Place de la Dauversière is an unassuming public space that is frequented by the locals. Sitting adjacent to the lively Place Jacques-Cartier, it provides a quiet, relaxing respite away from the crowds. Sit awhile, under the large tree canopies, and watch the pigeons flutter about.
Named in honour of Jérôme Le Royer de La Dauversière, founder of the Société de Notre-Dame, it was the site of the Lemoine-Despins family home in 1750, then James McGill in 1805.
Address: 280 Rue Notre-Dame Est | Nearby: Sits between Place Jacques-Cartier and Château Ramezay
#16 Victoria Square
Victoria Square is a public space where Old Montréal ends and Downtown Montreal begins. The Square was named after Queen Victoria (1819-1901) and the monument was unveiled in 1872. The entrance to the métro station in the Square bears an authentic Paris métro railing. The Art Nouveau casting was designed by Hector Guimard in 1900 and was offered to the city of Montréal by the city of Paris, on the occasion of the 1967 World Exhibition.
Address: Rue du Square-Victoria | Nearby: Royal Bank Tower
If you'd rather see the sights of Old Montréal led by a professional guide, join this 2-hour VIP Walking Tour to learn about the district's history and architecture and enjoy a beverage and rest-stop treat
Check prices and book your dates
Best Eateries in Old Montreal
Here are the best places to go for…
Boulangeries: L'Amour du Pain Vieux-Montreal, bar à beurre, La Cave à Manger
Brunch: Olive et Gourmando, Jardin Nelson, Chez Suzette
Cafés: Café Olimpico, Tommy, Café de Mercanti, Le Petit Dep
Ice Cream: Ca Lem, Le Petit Dep, Mlle Catherine
Dinner: Toqué! Garde Manger, Pyrenees
Or, why not dine at one of these two historical places…
Best Place to Stay in Old Montreal
St Paul Hotel
The St Paul Hotel is located in Old Montréal in a Beaux-Arts building. Beaux-Arts architecture was the academic architectural style taught at the École des Beaux-Arts in Paris during the period from the 1830s until the end of the century. The interior is just as impressive as the exterior. The award-winning Borrallo Interiors, a Montreal design firm, created a sophisticated, yet bold space. Vibrant colours in rich jewel tones add a bit of drama to its modern clean lines. And, it's also known as the first-ever boutique hotel in Canada.
Top 5 reasons why St Paul Hotel is the best place to stay:
It's dog friendly (note there is a $50/night charge for your pet).
The location. Even though Old Montreal is small and walkable, the hotel is away from the most 'touristy' area of this neighbourhood.
It's an architectural gem.
The interior design is highly stylized and uber-cool.
Their personalized service was top-notch.
Tip when booking: ask for the top floor and you will be awarded amazing views of the city (Request Room 1007).
Montreal Travel Tips
If you are coming to Montreal for the first time, here are some of the top travel tips you should be aware of:
After Paris, Montreal holds the position of the second-largest French-speaking city in the world. However, you'll find that most people speak both English and French.
Montreal is a walkable city and really only needs transportation (car, metro, bus) if you're planning to hop from neighbourhood to neighbourhood.
Looking for Happy Hour? Look for signs in front of pubs, bars, and some restaurants that advertise "5-à-7 or cinq-à-sept". This is how Montreal refers to Happy Hour.
Montreal is a city where you can enjoy many festivals, historical places and museums. So, to experience all these things, you should plan a trip of 5-7 days which will be enough time to experience this city.
Beyond Old Montreal, the top attractions in Montreal are Mount Royal Park, Montreal Botanical Garden, and Saint Joseph's Oratory of Mount Royal, as well as visiting some of the other neighbourhoods in Montreal
FAQ
Why you should visit Old Montreal?
Old Montreal is a must-visit destination for its charming European architecture, rich history, vibrant culture, delicious food, and endless entertainment options.
What are some things to do in Old Montreal at night?
Old Montreal is bustling with nightlife, including rooftop bars, live music venues, ghost tours, night markets, river cruises, and historic walks.
What is the famous Old Montreal street?
Rue Saint-Paul is the most famous street in Old Montreal, known for its historic architecture, trendy shops, art galleries, and world-class restaurants.
As a Holidaymaker
Montréal is such a lively historic city. The late, and great, Anthony Bourdain had a deep affection for the city and said, "It's where the cool kids hang out." And he's right! I love everything about this city, especially Old Montréal. It can rival any European city. With this itinerary, plan to spend a full day in Old Montréal. Au reviour!