13 Charming Quebec Villages in the Eastern Townships
Curious about which Quebec village to visit in the Eastern Townships? I've found 13 of them!
The best part of the Eastern Townships in Quebec are Les Coeurs Villageois. Coeurs in French means heart, and these 13 charming villages definitely have that! In fact, they are 13 villages that are some of the most beautiful places in Quebec to visit. They are the hidden gems of Eastern Townships!
I've visited this charming area of Quebec four times in the last 2 years and there's a reason why I keep returning – it's utterly charming! From the landscape to the food, to the villages – there is just so much to do!
Let this be your guide to the most beautiful places in Quebec. Those 13 charming Eastern Townships villages and the top things to do while there.
Table of Contents
Is the Eastern Townships worth visiting?
The Eastern Townships, or in French Cantons de l'est, is full of farmland, softly rolling hills, crystal-clear lakes and mountains. It's a nature lovers' paradise- perfect for outdoor and sports enthusiasts.
Not to mention the wineries and fruit orchards delighting any foodie traveller. Vacation in the Eastern Townships and there's a little something for everyone.
But it's the small towns and villages that I fell in love with the most. In particular, the 13 designated Les Coeurs Villageois that are dotted throughout the 9 Regions in the Eastern Townships. 
How does a Quebec village become a Les Coeurs Villageois
To earn the special title of Les Coeurs Villageois the Quebec village is deemed to be incredibly welcoming to visitors. And, each one does just that!
Considered to be the most beautiful villages in Quebec, each one offers something a bit different. And, they certainly go out of their way to showcase the best of what they have to offer- from products to culture.
13 Les Coeurs Villageois Quebec Villages
1. Dunham Eastern Townships
Dunham is surrounded by picturesque rural landscapes and wineries.
At the centre of Dunham is a heritage building dating back to 1865. The former coach inn has been restored into an artisan gallery and Dunham's very own microbrewery. That, plus Dunham's rich history and incredibly scenic views of the mountains make this a must-visit village.
Where to drink: Dunham microbrewery and the surrounding Eastern Townships wineries along the wine route like Vignoble du Ruisseau, Domaine Côtes d'Ardoise, The Orpailleur, Val Caudalies, and Clos Ste-Croix
What to do: Visit the orchard – Domaine de Dunham – and pick your own fruit or stop in on their market shop
Where to eat: L'Épicerie-Café Dunham
Facts about Dunham: Population: 3,525 | Settled in 1796 | Located in the Brome-Missisquoi region | Designated as a Les Coeurs Villageois
Travel Pro Tip: Visit the lively and charming town of Bromont situated close to Dunham and Frelighsburg Eastern Townships villages
2. Frelighsburg Eastern Townships
Frelighsburg is known for its thriving art community. It can be found everywhere – from parks to restaurants to hanging on the side of buildings.
Nestled at the foot of Mount Pinnacle close to the Vermont border sits the lovely village of Frelighsburg. The roads that lead you there are sprinkled with apple orchards. But it will be the church steeple peaking out over the trees that leads you to the town's main hub. Once there, it becomes obvious why it's considered one of the most beautiful places in Québec.
Where to eat: Café de Village, the once historic general store, is known for its specialty maple syrup pie or Beat & Betterave is part café and part cultural centre featuring local artists' work
What to do: visit the historic Grammar School built in 1856 now serving as the tourism office
Where to shop: Oneka which features organic body care products
Facts about Frelighsburg: Population 1,100 | Settled in 1790 | Located in Brome-Missisquoi region
3. Brome Lake Eastern Townships
Brome Lake is the merger of seven hamlets and villages – Bondville, East Ville, Foster, Fulford, Iron Hill, Knowlton and West Brome.
Lac-Brome or Brome Lake is where art and history meet. The town served as the inspiration for crime novelist Louise Penny's famous village of Three Pines. With its deep historic roots, you will find many museums, self-guided historical trails and even an antique circuit. It's also an area full of delicious eateries and gourmet shops. My favourite was Domenica – a little Italy Grocery shop. There's no mistaking it, Brome Lake definitely deserves its Les Coeurs Villageois status.
What to do: Head to Douglass Beach or Brome Lake or visit a lavender farm at Joie de Lavande
Where to eat: Le Relais Bistro, Bistro West Brome, Le Sapin or Quilliams
Best village and hamlet to visit: Knowlton! This Quebec village is a must-see
Where to drink: Leon Courville Winery or La Knowlton Co. microbrewery
Facts about Brome Lake: Population: 5,590 | Settled in 1792-1797 | Located in the Brome-Missisquoi region | Designated as Les Coeurs Villageois
4. Sutton Eastern Townships
Sutton is a mountain village, famous for its year-round outdoor activities, especially alpine skiing at Mont Sutton. In Sutton, hiking Eastern Townships takes over with many sought-after trails.
At the foot of Mont Sutton, sits a typical alpine village. This Quebec village is full of eateries and shops catering to all the outdoor enthusiasts who flock to this area. It's a lively town, full of cyclists and hikers (in summer) and skiers (in winter). Sutton has a great selection of eateries and shopping for all your outdoor and sports gear. Of all the Eastern Township villages we visited, this is the busiest. It feels like a
Where to eat: Le Pleasant Hotel & Café, La Galette for their sweet or savoury crepes
What to do: endless trails for cycling, mountain biking, hiking and cross-country skiing, plus downhill skiing at Mont Sutton
Where to drink: Auberge Sutton Brouërie, L'Abordage Microbrasserie, Vignoble de la Chapelle Ste-Agnes, Vignoble Domaine Bresee
Facts about Sutton: Population: 4,000 | Settled in 1792 | Located in the Brome-Missisquoi region | Designated as Les Coeurs Villageois
5. Waterloo Eastern Townships
Waterloo is known as a cycling Eastern Townships mecca. And, this amazing public art garden.
At the crossroads of three bike trails – Estriade, Campagnarde and Montagnarde, Waterloo is one of the main cycling hubs in the Eastern Townships. Beyond cycling, the real highlight is Artria Park – an outdoor art gallery. Amongst the French-style gardens are large art sculptures from artists around the globe. With music piped into garden speakers and the backdrop of Lake Waterloo, this makes for a pleasant leisurely stroll for a couple of hours.
What to do: Heritage trail with 40 historic and architectural buildings
Where to drink: Robin – Bière Naturelle
Facts about Waterloo: Population: 4,600 | Settled in 1793 | Located in the Granby region | Designated as Les Coeurs Villageois
Travel Tip: a popular, yet far, Eastern Townships day trip is to Mégantic. Here you will experience some of the best hiking Eastern Townships has to offer. Take the Summit Drive which is one of the best Eastern Townships scenic drives reaching a mountain peak.
6. Ayer's Cliff Eastern Townships
Ayer's Cliff is very scenic with its towering cliff over the beautiful Lake Massawippi.
Ayer's Cliff was named after Thomas Ayer who introduced the railway in 1799. The focal point of this Quebec village was the stagecoach inn that hosted American travellers passing through. Still to this day, the village has a constant flow of traffic. As a result, it's not as quiet and quaint as the other Eastern Townships villages but still does feature many beautiful heritage homes and the Stanstead County Agricultural Fair which is the oldest in Quebec.
What to Do: Tomifobia Nature Trail is a 19-km easy bike and footpath along Lake Massawippi or Ayer's Cliff public beach
Where to eat: Café Folies, Le Riverain Restaurant at The Ripplecove Inn or Auberge Ayer's Cliff
Facts about Ayer's Cliff: Population: 1,130 | Settled in 1815 | Located in the Memphremagog region | Designated as Les Coeurs Villageois
7. Eastman Eastern Townships
Eastman is where arts & culture converge with natural surroundings.
Surrounding Eastman are such pretty views of Mont Orford and the four nearby lakes. It is also home to Théâtre de La Marjolaine, which introduced French summer theatre to Quebec, as well as, the literary event, Eastman Correspondences. Most recognize Eastman as the location of the famed author Louise Penny. Eastman is such a peaceful and tranquil place to visit, so it's not surprising it made it on the Les Coeurs Villageois list.
Where to eat: Café Bistro Les Trois Graces, Restaurant du Spa Eastman, La Station, or Dora's Artisanal Bakery
What to do: Hiking and biking on the Heritage trails, Louise Penny Tour Eastern Townships, kayaking, fishing and ice fishing in the nearby rivers
Where to shop: Savonnerie des Diligences
Facts about Eastman: Population: 2,070 | Settled in 1888 | Located in the Memphremagog region | Designated as Les Coeurs Villageois
8. Austin Eastern Townships
Austin in Quebec is known for its panoramic views.
Austin is a bit unique in that it does not offer a lot in terms of eateries or cute shops, in fact, it only has one general store. Instead, it's the views that make this place worth the visit. At the crossroads of Nicholas Austin and Millington, roads are the departure point for two scenic hiking trails in Eastern Townships – a 4.7-km heritage tour and a 2-km pedestrian walkway leading to Saint-Benoît-du-Lac.
Facts about Austin: Settled in 1793 | Population 1,500 | Located in the Memphremagog region
Saint-Benoît-du-Lac
Saint-Benoît-du-Lac is considered to be one of Quebec's smallest municipalities and is often considered part of Austin. This entire area is to accommodate the Saint-Benoît-du-Lac Abbey for Benedictine monks.
The Abbey is an impressive structure overlooking the western shore of Lake Memphremagog. It resembles a French chateau with its turrets, green copper roofs, and walls of stone. Sitting on a green hillside that slopes gently down to the water. Mount Owl's Head, one of the three big mountains in the area, looms majestically in the distance. It's a stunning setting.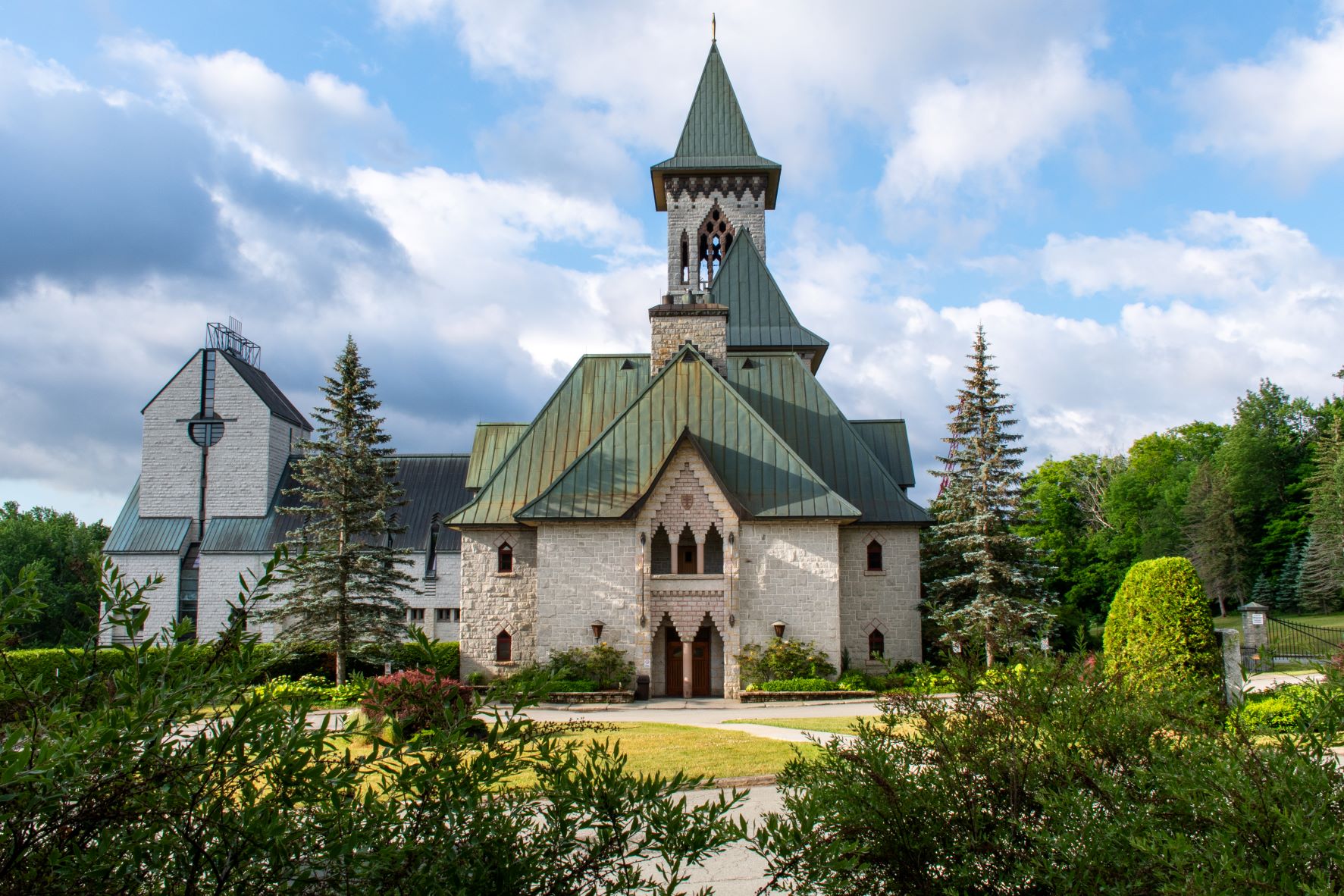 A boutique shop at the Abbey is open to the public. It offers products made at the Abbey, mainly cheeses, ciders, jams, and apple butter. Visit during the apple-picking season and you can join the monks in this annual ritual.
9. North Hatley Eastern Townships
North Hatley is known for being one of the most beautiful places in Québec.
This Quebec village oozes charm with a historic village centre. North Hatley sits on the shores of Lake Massawippi with the mountains in the background. Many of the century-old homes have been turned into lovely inns and B&Bs, as well as, cute shops, galleries, cafés and restaurants. It's no wonder this place is considered the vacation destination of all of the Eastern Townships villages.
Where to stay (and dine): the Relais & Châteaux property of Manoir Hovey gained international attention when Condé Nast Traveler named it the top place to stay in Canada. Its restaurant, Le Hatley, is also a recommended place to dine for a special dinner
What to do: stroll the boutique shops, and be sure to visit Galerie Jeannine Blais featuring all types of art worldwide. Beach lovers head to Pleasant View beach. Watch out for the North Hatley covered bridge on one of the sideroads outside of town
Where to eat: Saveurs et Gourmandises
Facts about North Hatley: Settled in 1897 | Population 700 | Located in the Memphremagog region
10. Stanstead Eastern Townships
Stanstead is the merger of 3 charming villages – Stanstead Plain, Rock Island and Beebe Plain.
This Quebec village is known for its architectural heritage due to the locally quarried Stanstead Grey Granite. This stone can be found in many of the buildings throughout this area, and is often referred to as the "Granite Capital of Canada." Another unique part of visiting Stanstead the main street extends to the US border. CANUSA Street is divided down the middle by an international border. The Haskell Opera House is divided down the middle where the audience sits in the US, while the artists perform on the stage in Canada.
What to do: Visit the Stone Circle, Colby-Curtis Museum, Ye Olde Blacksmith or Le Vieux Forgeron art galleries 
Where to eat: Café-bistro at the Auberge Le Sunshine
Facts about Stanstead: Population: 2,790 | Settled in 1789 | Located in the Memphremagog region
11. Masonville Eastern Townships
Masonville is made up of hills and views of Lake Memprehmagog.
The main attraction in Masonville is its historic round barn from 1912. There are only a handful of round barns still standing in the Eastern Townships, and this is considered the one to see. Due to the hilly roads near Masonville, this is a cyclist's paradise. Many stop in on the village as they make their way either to or from Owl's Nest – a popular area for skiing and golf.
What to do: Visit Owl's Head for alpine skiing, hiking and golf course. Watch out for the Pont de la Frontière, the covered bridge near Potton. Although not in use anymore, and there is a road built adjacent, it's still worth a visit
Facts about Masonville: Population: 1,820 | Settled in 1792 | Located in the Memphremagog region | Designated as Les Coeurs Villageois
12. Coaticook Eastern Townships
Coaticook is known for its beautiful natural surroundings, especially its vistas.
One of the biggest attractions to Coaticook is Parc de la Gorge. Go here and you can walk across the highest pedestrian suspension bridge in North America. It offers amazing views of the gorge below. Contained in the same park is Foresta Lumina, a multimedia nighttime experience along Coaticook's Canyon.
Where to eat: Laiterie de Coaticook where for 75 years they have been known for making its delicious ice cream and cheeses
What to do: ride the 15 km of bike trails winding along the river offering many scenic spots to stop
Where to drink: Microbrasserie de Coaticook, Microbrasserie Hop Station
Facts about Coaticook: Population: 8,900 | Settled in 1820 | Located in the region of Coaticook River Valley | Designated as Les Coeurs Villageois
13. Cookshire-Eaton Eastern Townships
Cookshire-Eaton is known as the town of the four bell towers.
Cookshire-Eaton's main attraction is Parc des Braves where an arrangement of standing stones, the same found in Scotland. The legend is that they were believed to track the passages of the moon. Try and find the four bell towers, 3 of them are churches and one is in Parc des Braves. Next, take the trail along the lovely Eaton River that leads you to the 1868 John Cook-covered bridge.
What to do: Visit the Cookshire-Eaton Art Gallery
Where to eat & drink: Brasserie 11 Comtes
Facts about Cookshire-Eaton: Population: 5,430 | Settled in 1795 | Located in the Haut-Saint-François region | Designated as Les Coeurs Villageois
Where to Stay in the Eastern Townships
You might be asking yourself what place makes a good home base to explore all of these Eastern Townships villages?
My recommendation is a tiny village in the Memphremagog region called Bolton-Est. It's central to almost all of the 9 regions in the Eastern Townships making it very accessible to enjoy the must-visit places listed above. And, why not stay in a cantilevered house in the mountains? Check out this architectural gem, the Bolton-Est house, staying here is a definite highlight of our trip. 
Or, check out this curated list of 15 Eastern Townships cottage rentals spread across the region.
FAQ
Where are the Eastern Townships in Quebec?
The Eastern Townships in Quebec are 80 km west of Montreal and 250 km southeast of Quebec City. This area of Quebec shares a border with Vermont, New Hampshire and Maine in the US.
How far are the Eastern Townships from Ottawa?
The Eastern Townships are roughly 350 km from Ottawa making it about a 3.5-hour drive.
Which of the 13 Les Coeurs Villageois is worth visiting?
All of the 13 Les Coeurs Villageois are worth visiting as they each offer something a bit unique. The most beautiful village in the Eastern Townships is North Hatley.
As a holidaymaker
Although the Eastern Townships is the place to be for serious skiers in the winter, come summer boating, swimming, golfing, hiking, and biking take over. Yet, for me, it's the charming villages or Les Coeurs Villageois that drew me to this area. These villages are some of the most beautiful places in Quebec.
There's nothing better than day-tripping to some of these Eastern Townships villages—all with the backdrop of the natural countryside, mountains and lakes. And, the most scenic drive to get from one charming village to the next. No matter the season, the Eastern Townships is so beautiful and definitely one of the top places to visit in Quebec.