Are you travelling to Tuscany and wondering what are the best Tuscan towns to visit? Add the hilltop village of Pienza to your list. This UNESCO World Heritage site is famous for its Pecorino di Pienza, a hard sheep's milk cheese. You will find it prominently displayed in some of the specialty cheese shops in this region. But it is more than just that. Let this be your guide to touring this Tuscan Town.
How to Get to Pienza Tuscany
Pienza is a hilltop village that sits in the region of Val d'Orcia in the province of Siena. Although this area of southern Tuscany is known for its other principal towns of Siena, Poggibonsi, Montepulciano, San Gimignano and Chiusi – Pienza is truly a hidden gem. This Tuscan town is located right between Montepulciano and Montalcino, making it easy to see all three in one day.
Here is a guide to driving distances from other popular destination points:
Montepulciano to Pienza is 20-minute drive
Siena to Pienza is a 60-minute drive
Florence to Pienza is a 90-minute drive
Rome to Pienza is just under 2 hours by car or 2.5 hours by train
History of Pienza
So, how did this Italian town come to be? Enea Silvio Piccolomini elected Pope Pius II in 1458, and it was he who wanted to transform his birthplace, the anonymous village of Corsignano, into the ideal Renaissance town. He hired Bernardo Rossellino, and it only took 4 short years to rebuild and rename the town of Pienza.
Pienza has remained virtually unchanged since the 15th century making it a top reason to come and visit this Tuscan town. 
Best Things to do in Pienza
Tour the historic centre of the city of Pienza
Let's start with the historic centre of Piazza Pio II, the main hub of Pienza. Here you will find all of the town's main monuments. It is flanked by the cathedral and three palaces: one for the government, one for the bishop and one for Pope Pius II.
The Cathedral or Duomo was built on the remains of the Romanesque church of St. Mary which is still visible in the crypt. The façade is typical of the Renaissance and is divided into three parts by arched columns.
On the left wing of the Cathedral, there is an octagonal, cuspidate bell tower that is reminiscent of the ones Pope Pius II saw in Germany.
Next is Palazzo Piccolomini. This was Rossellino's masterpiece and has a three-arched loggia on the ground floor facing the cathedral with the council chamber above it. Interestingly, Palazzo Piccolomini was the film location for Shakespeare's "Romeo and Juliet" in 1968. 
And then there is Palazzo Borgia (Palazzo Vescovile) which was given by Pius II to Cardinal Rodrigo Borgia (the future Pope Alexander VI). This is home to the Diocesan museum. The collection includes local textile work as well as religious artifacts.
And the last building is Palazzo Comunale, the town hall. The contrasting red brick bell tower was added afterwards. It was purposely built shorter than the cathedral's bell tower to symbolize the superior power of the church.
Wander aimlessly through Pienza's small alleys streets and shops
Wander the delightful narrow cobbled stone streets in the historic centre. With the names of Via dell'Amore (or Love Street) and Via del Bacio (or Kiss Street) and you can't help but fall in love with this Renaissance town. It features small but inviting piazzas with breathtaking countryside views, which are part of its charm. 
People watch in the piazza
Like any piazza in Italy, it's where you will find locals gathering, catching up on the latest news (or maybe it's the town's gossip) and children playing football (soccer). What is missing is the opportunity to dine al fresco, for that, you will find dining tables and chairs tucked away on tiny side streets. This is what makes Pienza's piazza a bit different. I for one rather liked it. It seemed quieter and more intimate. The only real noise you heard was the echoing sounds of the pigeons fluttering about and cooing.
Try some Pecorino di Pienza cheese
The main street in Pienza is Corso il Rossellino. This lovely street is lined with little shops. There are an abundant amount of food shops showcasing typical Tuscan products, and yes, cheese. For such a small town, it is always bustling with activity with locals stopping in to say ciao or picking up their daily products. During your visit to Pienza, you have to try the delicious Pecorino cheese they are so famous for. 
Gaze upon the panoramic views
One of the best parts of being in a hilltop town is of course the views. And, Pienza definitely has some of the best Tuscan countryside views. Find your way to Camminata Panoramica, along the path of the city wall. Gaze upon the hilly landscape of the Val d'Orcia behind the cathedral. This picturesque viewpoint should not be missed!
Go to Gladiator Point
Sitting below the city wall is the 11th century church of Pieve di Corsignano. This church is known as one of the most important Romanesque monuments of the region. From here take the 5-minute walk to De Cypresses or Gladiator point. This pathway is from the opening scene of the Gladiator movie and is incredibly beautiful.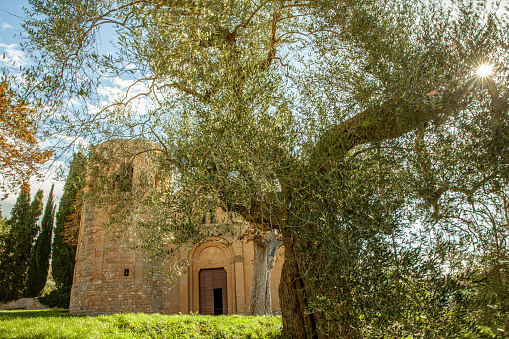 Where to Stay in Pienza
If you are touring Tuscan towns, Pienza makes a lovely day trip. If rushed, you could combine it with Montepulciano (15kms) and Montalcino (20 km), allowing you to see three small, yet lovely towns in one day. Maybe one for breakfast, one for lunch and one for dinner. Pienza is a destination for its restaurants. I recommend La Terrazza del Choistro or Osteria Sette di Vino.  
But if you would like to make Pienza your home base, this romantic town offers a wide range of accommodations, both in the old town and close to it. From agritourism to apartments to vineyard estates to wineries, agritourism, everything is represented here. Here are some of the best accommodations in Pienza.
Touring Other Tuscan Towns
While in this area of Tuscany, check out some of my featured guides for other beautiful destinations:
Experience | Discover Brunello wine in Montalcino with a ticket to the Brunello Temple, including optional wine tastings, click here to book in advance.
As a holidaymaker…
Tuscany is definitely one of those destinations that you are sad to leave and you long to return to. There are just so many small, quiet towns and villages dotted along the Tuscan hills. Pienza just happens to be one of my favourites. I immediately fell in love with this romantic hilltop town with its incredible views and I know you will too.