One of the prettiest towns in Canada, Niagara-on-the-Lake may be best known for its wine, but it's also home to a whole lot more. It has a little something for everyone – a picturesque downtown, thriving arts & culture, beautiful parks and interesting museums, and a long Canadian history. That's right, although this beautiful village has a serious focus on quality food and drink, its old-world charm is what draws me here each and every time. Planning a visit? Here are the best things to do in the very charming Niagara-on-the-Lake in Ontario.
History of Niagara-on-the-Lake
When a town is steeped in Canadian history as much as Niagara-on-the-Lake is, it comes as no surprise to find some significant sites here you can visit. Here are some fun facts about this pretty town. Did you know Niagara-on-the-Lake was…
the first capital province of Upper Canada, which is now Ontario
called Newark from 1792 to 1797
the site of some major battles with the Americans during the War of 1812
As well, Niagara-on-the-Lake is home to the oldest Catholic church and the second-oldest Anglican church in Ontario, and the oldest surviving golf course in North America, Niagara-on-the-Lake Golf Club. History buffs, you'll love it here!
Things to Do in Niagara-on-the-Lake
Be prepared to fall under its spell. The spell of the Victoria-era 19th-century charm that is. Downtown Niagara on the Lake looks like a movie set – it's that darn cute. Horse-drawn carriage rides, gardens galore, elegant architecture and all with the backdrop of Lake Ontario. It doesn't get any better than this.
Before you hit up some of those delicious wineries and restaurants, be sure to check off your list of some of these things to do in Niagara-on-the-Lake other than wineries.
Stroll the Historic Downtown
Quaint shops, boutiques, and galleries line both sides of the main street or Queen Street. Whether you are a shopper or a window shopper there is bound to be something that catches your eye.
Long-time shops like Just Christmas, for all things Christmas all-year-round, or Irish Design featuring gorgeous imported knits from Ireland. Love sweets, then you'll want to pop into the very cute Olde Tyme Candy Shop. And, Brims & Things and BeauChapeau, are two boutique shops selling nothing but hats. My favourite of them all is Serendipity – The Little French Shoppe for all things France.
Wander the Pretty Streets & Parks
Wander some of the prettiest streets in Niagara-on-the-Lake and admire the beautiful heritage homes and gardens. Talk about curb appeal, these homeowners take immense pride in their homes.
The prettiest streets to wander are Front Street, Prideaux Street, and Ricardo Street with the intersecting streets of Gate Street, Victoria Street, and King Street.
Stroll through the nearby parks of Simcoe and Queen's Royal Park. The highlight of Queens Royal Park is the views of Lake Ontario from the gazebo. Catch a sunrise, and admire the view. You will also be able to see Old Fort Niagara.
Learn at a Historic Site
The Niagara-on-the-Lake Museum was created in 1896 as a way to preserve the town's rich history and heritage by showcasing a collection of artifacts in the local courthouse. In 1907, they expanded to open Memorial Hall, Ontario's first purpose-built Museum. Visiting the museum today links 3 independent buildings together – the High School building (1875), Memorial Hall (1907), and the Link Building (1971) – located at 43 Castlereagh Street, NOTL
McFarlane House – the former private residence of John McFarlane was used as a military hospital during the War of 1812 by both the Americans and the British. A popular thing to do at one of the oldest homesteads in Niagara-on-the-Lake is to enjoy a picnic on the grounds or high tea. Plan your tour and visit at 15927 Niagara Parkway Recreational Trail, NOTL
Niagara Apothecary – opened its doors in 1869 in this exact building. This Ontario Heritage Foundation is a must-see attraction because of its restored original features and artifacts. Visit the original location at 5 Queen Street, NOTL
Fort George National Historic Site – overlooking the Niagara River, Fort George was built between 1796 and 1802, to protect Upper Canada during the War of 1812. Step back in time and learn about this significant time in Canadian history by visiting this Historical Site at 51 Queen's Parade, NOTL
Laura Secord Homestead – visit the home of this heroine who walked 32 km to warn the British of a surprise attack by American soldiers during the War of 1812. This historic landmark lies in Queenston, a village just outside Niagara-on-the-Lake.
Watch Live Theatre
The Shaw Festival Theatre, named after Bernard Shaw, delivers 13 live productions each year in 3 theatres drawing an audience of more than 250,000. The theatres are smaller and more intimate, with not a bad seat in the house.
This top thing to do in Niagara-on-the-Lake is really a must. In 2022, the Shaw Festival celebrates its 60th season of creating world-class productions.
Snap a Photo, or Two
Niagara-on-the-Lake is one of the most photogenic small towns in Ontario and is an Instagrammer's dream. So it won't be hard to find some cute spots perfect for that photo op! Here are my picks of the top 5 Instagram-worthy spots.
The Memorial Clock Tower – the only town in Canada to have a war memorial in the centre of the town's main street serves also as this town's beacon
Old Courthouse – the grand classic architecture of this 1850s building makes for the perfect backdrop
The Gazebo at Queen's Royal Park – offers the best Lake Ontario views
The Shaw Café – besides being one of the best places to dine, you can't help but notice the beautiful flowers in front of it
Prince of Wales Hotel – the Victoria-era hotel with its pretty details and elegant architecture
Admire Some Art
For those that appreciate those one-of-a-kind art pieces – whether it be paintings or pottery be sure to check out these art shops.
Lakeside Pottery – visit the studio and gift shop of this husband and wife team in a lovely countryside garden setting
Gate Street Studio – is a gorgeous mix of abstract and mixed media and canvas by artist Sandra Iafrate, to schedule, a visit contact the studio directly
Niagara Image Gallery (formerly the Romance Collection Gallery by Trisha Romance) – primarily is an art gallery featuring 3 artists' work
Go Treasure Hunting in NOTL
For those that enjoy the hunt for those great vintage treasures here are two great spots offering a wide variety of antiques.
Visit a Farm
Seeing you're in the Niagara Fruit Belt, producing 90% of Ontario's fruit, you can't not stop at a roadside fruit market. Better yet, why not go fruit picking? One of the best locations to pick your own fruit is at Parkway Orchards or Walker's Country Market.
If you're a fan of lavender, then stopping at Neob Niagara is a must. Walk through the rows of lavender during June to July's blooming season. Note there is a fee of $10. Or visit the on-site lavender shop, open all year long, selling its English lavender products.
Another unique thing to do in Niagara-on-the-Lake is to visit Grimo Nut Nursery – a grower of 15 kinds of nuts. Find your favourites here – walnuts, hazelnuts, chestnuts, pecans, figs, and more. Self-guided tours at 979 Lakeshore Rd, NOTL
Seasonal Fruit Calendar
June to July
July to September
August to September
Month of August
September to October
Cherry season
Lavender
Peach season
Nectarine season
Plum season
Apple season
Discover a Hidden Gem
The best hidden gem in Niagara-on-the-Lake is the gardens of Pillar and the Post Inn & Spa. You don't have to be a guest of this 19th-century vintage hotel to experience these beautiful gardens. Directly across the street from the hotel are the Monet-inspired gardens found in Giverny, France. A La Roserie, a pink and red rose garden, Le Pont de Monet, a green footbridge, and Le Petit Pavilion, with a waterfall.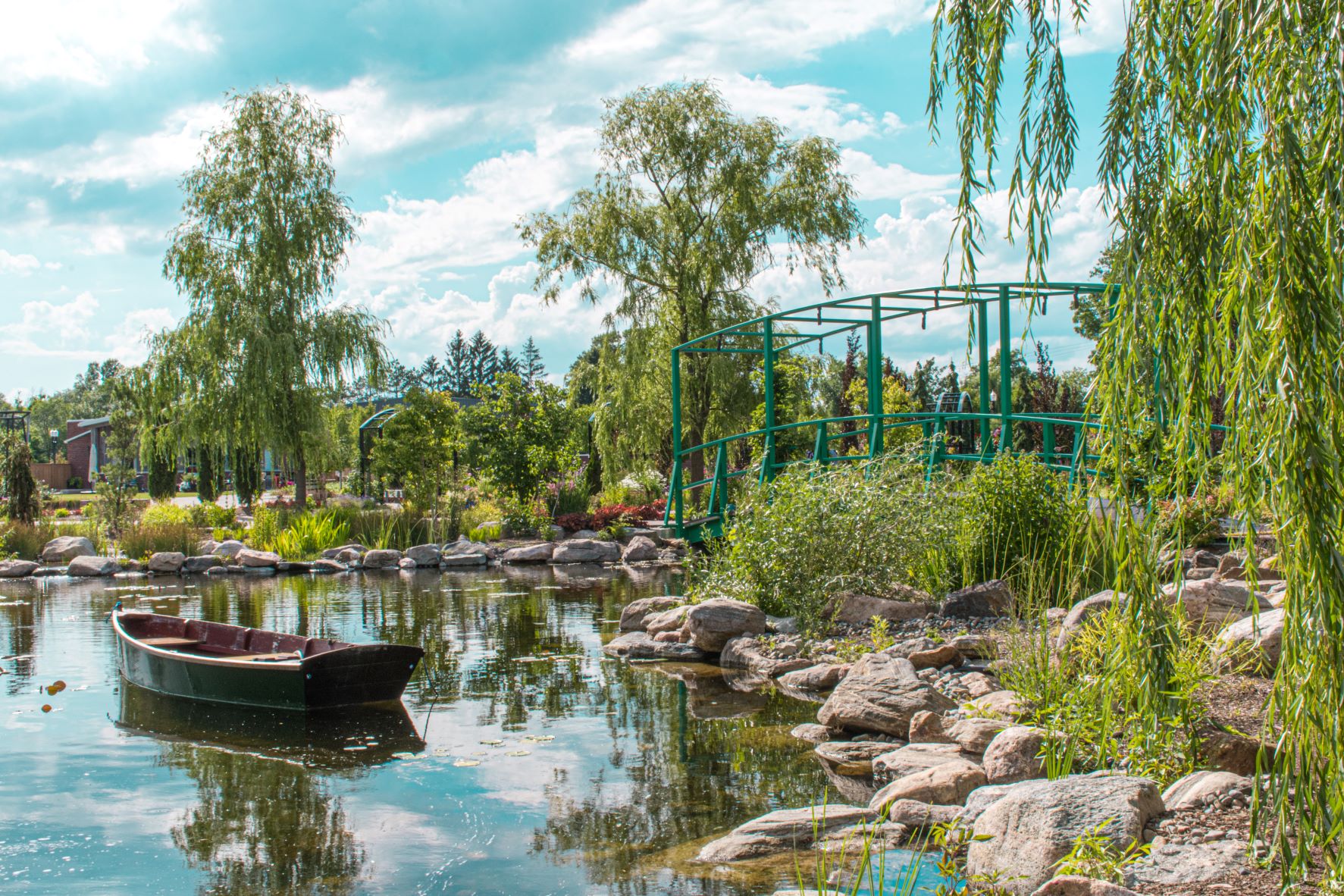 Designed for weddings, this photo op is perfect for a quiet stroll. Note, hours are 10 am to 7 pm and may be closed for private functions like weddings.
Another hidden gem in Niagara-on-the-Lake is the smallest chapel in the world – Living Water Wayside Chapel. This cute chapel, built in 1964 by the Niagara Falls Christian Reformed Church, is now just a fun spot for a photo op! And, it sits on the grounds of Walker's Country Market, so you can stop and enjoy both.
Best Wineries in Niagara-on-the-Lake
Ok, now for the real reason why most people go to Niagara-on-the-Lake…the wine and wineries! Whether you decide to join a wine tasting tour or go it your own, here are my picks of the top 5 most popular wineries in Niagara-on-the-Lake.
EXPERIENCE | Take a guided bus tour and enjoy a fun and interactive half-day tasting fine wines at some of the region's top wineries, click here.
READ MORE | If you want to explore more wineries in this area, visit the Niagara Escarpment, known as the Bench, where there are fewer crowds and intimate tasting rooms. Check out my article The 5 Best Dog-Friendly Wineries in the Niagara Region.
Best Breweries in Niagara-on-the-Lake
If you're not a fan of wine or simply want to mix up your tasting experiences, then you'll want to add these to your day. Here are the top cider, brewers, or spirits you'll want to visit in Niagara-on-the-Lake.
Best Restaurants in NOTL
Niagara-on-the-Lake is just as much about the food as it is about the wine. It can't all be wine tasting and no food when you go to Niagara-on-the-Lake. Here are the best Niagara-on-the-Lake restaurants.
Visiting Niagara-on-the-Lake
In the heart of Ontario's wine country, Niagara-on-the-lake is a popular day trip from Toronto (90 minutes), Niagara Falls (20 minutes), and Buffalo (45 minutes). So much so, tours are very popular.
EXPERIENCE | Enjoy a day tour of Niagara Falls from Toronto with a stopover in Niagara-on-the-Lake via a local guide, click here.
Due to its milder climate, visiting Niagara-on-the-Lake is a great weekend getaway all year long. However, May to October is considered to be the best time to visit due to the nicer weather, blooming gardens, and availability of museums and theatre productions. If you don't like crowds, then you'll definitely want to avoid July and August as the peak times to visit this very charming town.
READ MORE | A popular day trip from Niagara-on-the Lake is to the beautiful village of Jordan. Check out my article if you would like to add this to your itinerary Best Things to Do in the Enchanting Village of Jordan
Best Festivals in NOTL
Why not plan a weekend around festivals and events in Niagara on the Lake?
Niagara Icewine Festival – all month long in January, Niagara-on-the-Lake offers Icewine-themed experiences. It's a great time to visit the area without the crowds and the top thing to do in Niagara-on-the-Lake in the winter. Not to mention sampling Canada's greatest invention – ice wine!
Days of Wine, Chocolate and Cheese – really is there anything better than that combination? Select wineries host this festival in March.
Artistry by the Lake – takes place over the Canada Day long weekend featuring artists and artisans showcasing their work in the Queen's Royal Park.
Shades of Summer Dinner – celebrates the peach harvest in early August. This exclusive food and drink festival is a popular event and requires pre-ordering your tickets.
Taste the Season – over the 4 weekends in November – wineries celebrate the season's bounty and host holiday-inspired food and wine experiences.
As a holidaymaker…
Whether you are heading to Niagara-on-the-Lake for the day or a weekend, there is plenty to do. This pretty town in Canada is the kind of destination that you can visit over and over again and still not feel like you've seen it all. The very charming Niagara-on-the-Lake in Ontario offers a little something for everyone. What are some of your favourite things to do from these best things to do in Niagara on the Lake list?