Best of Prince Edward County with these 16+ Things to Do
The hottest destination in Ontario right now is Prince Edward County. And, for good reason. With so many wineries, breweries, eateries, cute shops and galleries, it's no wonder it has quickly become THE sought-after weekend getaway. Even Condé Nast Traveller calls it Canada's Coolest Island Hideout. Only a couple of hours east of Toronto and a couple of hours west of Ottawa, Prince Edward County is a popular day trip or fun weekend getaway.
With so many things to do and attractions, I've pulled together the best of Prince Edward County. This list breaks down where to eat, what to do, and where to stay while in Prince Edward County.
Table of Contents
Where is Prince Edward County Ontario
Prince Edward County, or "PEC", as it is often referred to, or the locals simply call it "the County," is one of Ontario's prime travel destinations. It is the halfway point from Toronto to Ottawa.
Prince Edward County to Ottawa – 2 hours and 45 minutes or 275 km
Prince Edward County to Toronto – 2 hours or 200 km
Jutting into the turquoise waters of Lake Ontario sits Prince Edward County. It covers much of the area between Brighton and Kingston. The best towns in Prince Edward County are Picton, Bloomfield, and Wellington. There are a number of small communities that are dispersed around the island. Places like Hillier, Waupoos, and Carrying Place to name a few. 
Best of Prince Edward County
Wondering what to do in Prince Edward County? There's a lot! That's why this makes for a great weekend getaway. Of course, you can do a day trip and see and do one chunk at a time. But this is guide includes everything and the best of Prince Edward County things to do.
A top thing to do in Prince Edward County is to follow the Taste Trail. Discover some of the best food, drink, and ice cream while in The County. Whether at a farm stand, vineyard, or table you'll experience the local bounty The County is best known for.
#1 Prince Edward County Restaurants
There are so many great places to eat in Prince Edward County. If you are visiting The County on the weekend or during the summer, make sure you make reservations as this little county fills up quickly. If you go from November to April, you will feel like you have it all to yourself. Here are a few standouts to check out: The Drake Devonshire, East & Main Bistro, The Vic Café, The Miller House Café & Brasserie, Jamie Kennedy Farm, The Marans, The Agrarian,  La Condesa, and Warning House. 
#2 Ice Cream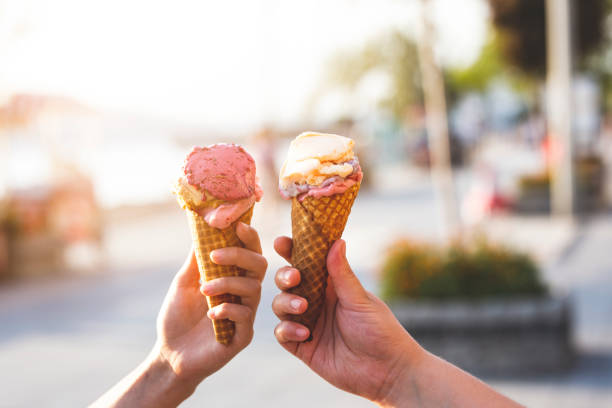 A visit to Prince Edward County in the summer is not complete without stopping for ice cream at Slickers. With two locations, one in Picton and the original Slickers location in Bloomfield.
Slickers is known for using locally sourced ingredients. Maybe that's why they are often referred to as one of the best ice cream places in Ontario. Slickers offer some delicious flavours like rhubarb ginger and vanilla brownie caramel.
#3 Prince Edward County Wineries
If you love wine, then you'll love Prince Edward County! As the second-largest wine region, there are a ton of wineries in Prince Edward County to visit. Renovated old barns have been turned into cool tasting rooms. You don't have to join a wine tour to experience some of the best wineries in Prince Edward County.
Here are some of my favourites: Hinterland Wine Company, Grange of Prince Edward Vineyards, Closson Chase Vineyards, The Old Third Vineyard, Karlo Estates, Casa Dea, Norman Hardie, and Waupoos Estates and Winery.
#4 Prince Edward County Brewery & Ciders
Not a wine lover? That's okay as craft breweries and ciders are just as popular.
Some of my favourites are: Barley Days Brewery, Parsons Brewing Company, 555 Brewing, The County Cider Company, Loch Mór Cider Company, and Lake on the Mountain Brewing Company.
#5 Prince Edward County Coffee Shops
And if you're looking for the perfect coffee shop to start your day in The County here are a few favourites: Enid Grace Culinary, Beacon Bike and Brew, The Bean Counter & Café, and Picnic Café.
#6 Prince Edward County Towns (Plus, shopping!)
It will be hard to pick the best town in Prince Edward County – so you'll just have to visit all three – Wellington, Bloomfield, and Picton. The top things to do in each of these Prince Edward County are to visit the cute shops that line the main street.  Here are some of my favourites: Parlor Studio, Luna, Sunday's Company, Kokito, Coriander Girl, Terra Florens, and KC's Closet. 
#7 Artisan Shops and Antiques
If it's antiques you're after, be sure to check out: Dead People's Stuff, MacCool's Reuse, Wooden Wishe, and Retrospective. 
Beyond the main streets of Wellington, Bloomfield and Picton, be sure to seek out these shops: Chetwyn Farms has an Alpaca shop called Shed, The Local Store – 130 local artists and artisans sell their work, Millefleurs – Lavender Farm and Meadery, and Prince Edward County Lavender.
Things to Do in Prince Edward County
Part of the attraction of Prince Edward County is that life seems to slow down a little. As soon as you leave the busy highway and cross over onto the island you will immediately feel it. The landscape is nothing but flat grassy farmland with soft shades of green and yellow against a blue sky. Here are the top things to do while in the County.
#8 Head to the Beach at Sandbanks Provincial Park
Some of the largest and best beaches can be found in Sandbanks Provincial Park. Soft golden sand, sand dunes, and pebble beaches offer visitors multiple spots in The County to enjoy a beach day. Crystal clear turquoise water just like you would find in the Caribbean. Sandbanks Provincial Park is the top attraction in Prince Edward County as it is rated as one of the top beach destinations in Ontario.
#9 Stroll along North Beach Provincial Park
North Beach Provincial Park is a thin stretch of sandy beach with Lake Ontario on one side and the calm waters of North Bay on the other. It offers an easy 2.5 km loop trail and is dog friendly. It's the perfect spot to come for a picnic with day pass access.
#10 Take the Scenic Route
Let's face it, all the roads in The County are scenic. But here are some standouts to seek out. Milford, Cherry Valley, and Black River on County Roads 10, 13, and Miller Road. Glenora, Lake on the Mountain, and Waupoos on County Roads 7 and 8. Carrying Place, Ameliasburgh and Consecon on Highway 62, Lakeside Drive, Loyalist Parkway (Hwy 33).
#11 Discover a Natural Wonder
Lake on the Mountain is an unexplained natural phenomenon. Just as the name indicates, it is a lake that sits high on a mountain. It has a constant flow of clear freshwater, with no explained water source about 62 metres above Lake Ontario. Today, geologists believe the lake is the result of a collapsed sinkhole. It's a great spot for a picnic.
#12 Photograph some Barns
There's something about barns. Once I started, I couldn't stop. From the old and weathered to the new and modern they are all over the County and in every colour. Forget #DoorsofInstragram or #CabinPorn – I think photographing barns is so much better.
#13 Find a Hidden Gem
One of the best-kept secrets and hidden gems Prince Edward County is Point Petre. Enjoy the pebble beach and the flat limestone ledges leading you out to the crystal-clear water of Lake Ontario. It's also the best sunset Prince Edward County spot (sunrise too!).
#14 Cycle The County
Cycling along the flat rural roads makes this a fun activity to do in Prince Edward County. County bike rentals can be found in Wellington as it's close proximity to the Millennium Trail. This 48-km former railroad winds through the County from Wellington to Picton.
Or, take the Sip and Cycle wine tour taking you an 18-km route and visiting a few of the local Prince Edward County wineries along the way.
#15 Follow the Prince Edward County Studio Trail
Prince Edward County has a thriving arts community. It offers year-round studios and galleries featuring amazing works in sculpture, paintings, glass, ceramics, and photography. Download the Arts Trail map and plan your own tour. Watch for the distinctive blue Arts Trail signs as you drive along the scenic country roads. Some of my favourites are ANDARA Gallery, 2gallery, Mad Dog Gallery, J.D. Thompson Fine Paintings, Sybil Frank Gallery, and Oneo Gallery.
#16 Sail Away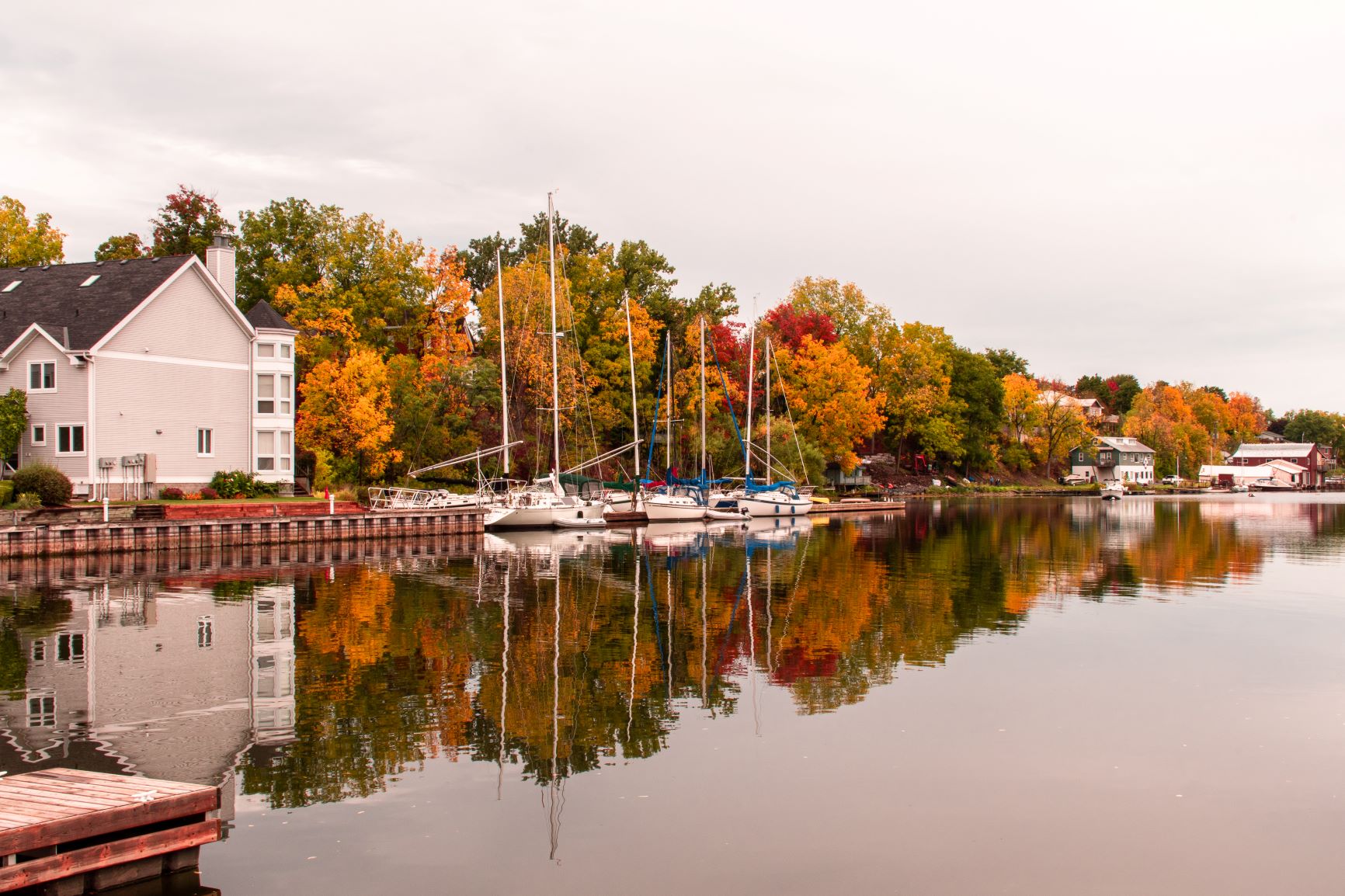 Why not see Prince Edward County from the water? You can arrange a fishing boat charter or a sailboat charter out of Picton Harbour. Or take the free Glenora Ferry that shuttles you to and from the west side of The County to the east side. This is a popular thing to do in October to see the fall foliage.
Prince Edward County Best Places to Stay
Prince Edward County offers an array of options from boutique inns to Airbnbs to renovated hip motels. With so many choices, here are a few for you to check out.
Let's start with the boutique inns and motels: Drake Devonshire, The Lakeside Motel, The June Hotel, The Wander Resort, The Wilfred Boutique Farmhouse, and Angeline's Inn.
And, if you like to rent a home then look further than these dreamy Airbnb properties. Check out my two recent Airbnb stays. The Coach House – an eclectic budget-friendly stay perfect for a couple in Picton. Or,  Easterbrook – a French country stay in a 200-year old farmhouse perfect for larger groups. 
FAQ
What is Prince Edward County known for?
Prince Edward County is known for its picturesque scenery, charming small towns, excellent wineries, artisanal food, and vibrant arts scene.
How do you spend a day in Prince Edward County?
Grab a coffee from The Vic Cafe, visit the Sandbanks Provincial Park, have lunch at one of the Drake Devonshire, taste wine at Norman Hardie, and end the day stargazing at Lake on the Mountain. Prince Edward County is a must-visit destination for a perfect day trip from Toronto.
When should I go to Prince Edward County?
Prince Edward County is a popular tourist destination year-round, but the best time to go is between May-October for warmer weather and outdoor activities, wine tours, and festivals.
Which is better Prince Edward County or Niagara on the Lake?
Both Prince Edward County and Niagara-on-the-Lake are charming destinations with great wine, food, and scenery. It depends on your preferences – PEC is more laid-back, while NOTL has more history and attractions.
Ontario Day Trips, Getaways and Inspiration
If you love day trips and Ontario staycations, then be sure to check out my Canada Travel page for all of my local content and resources.
If you live in Ontario and enjoy LOCAL TRAVEL, subscribe to my website! I share my love of Ontario with you, along with travel planning tips and inspiration for places close to home and in Europe. And, you'll get a FREE gift for signing up – 30 Best Small Towns in Ontario! Join, and let's be travel friends!
As a Holidaymaker
If you love small towns, friendly people and a thriving arts community head to Prince Edward County. Where you will be treated to some delicious farm-to-table food and wines, craft beers, and ciders. All the spaces – whether it be the eateries, wineries, shops or accommodations have a similar vibe. It's a little bit vintage, eclectic, Euro, and yes, a little bit country. That's the best of Prince Edward County if you ask me.